If you think your pool may be losing water, we can pressurise the different pipelines to determine if it is the pipework that is leaking.
Once we have found where the water is leaking from, we can then dig down to the broken pipe or fitting, replace it & then put the lawn or terrace back to its original state.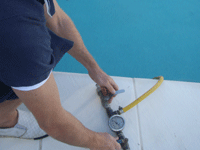 We can
also test for leaks in the pool structure itself by using a specialized dye which enables us to find the leak much easier.
Our leak detecting service is available for small plunge pools up to communal pools.
Prices for pool leak detection can vary, we charge a very competitive rate of 35€ per hour but time taken depends on varying factors. For example, if you have extras on your pool like heating or water features, testing these may take a little longer than the average pool. 90% of the time though we can be in and out within the hour.
Please don't hesitate to call with any questions.